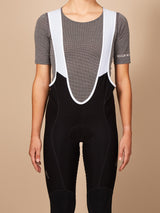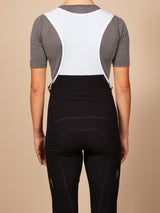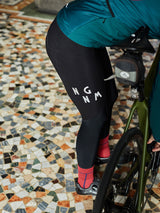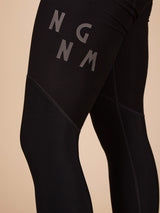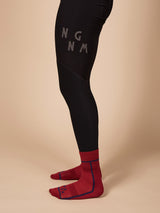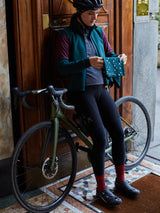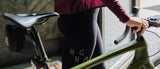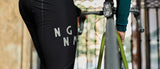 NGNM - No Gods No Masters ® Cycling
Performance Winter Tights
For those who prefer to wear one single piece instead of a bib-short & leg warmers combo, here are the Performance Winter Tights, padded.
These tights are made in the same premium light, windproof, and water-resistant with DWR treatment thermal fabric of the Winter Bib shorts, plus a full-waterproof protection from the knee to the ankle.

Not only your lower back, stomach, quads, and hip flexors are shielded from the cold & humid conditions, but your knees, shins, and calves remain dry, especially when riding gravel / MTB or in wet conditions.
These tights are a true winter barrier. Think of warm legs & core throughout your ride.

The design purposely offers ample room at the waist so you never feel squeezed or crammed in. Reflex logo transfers on each thigh add visibility on the darkest rides.

One of the benefits of this thermal WP fabric (made in Italy) is to transfer to the muscles a great balance between compression and elasticity, easing movement and blood flow. Our successful women-specific chamois by Cytech guarantees over 7hrs of care-free riding on the road, gravel, or MTB terrains. Same as with our best-selling Summer Bib Shorts. 
One advantage of this NGNM smart garment is that you'll need just one pair for all of your riding styles. Another example of the smart cycling apparel culture at NGNM.
Made in Italy.
Windproof, DWR treatment
Color: Black

The model is 1,70cm tall and weighs 52kg. She wears a size S.
No Gods No Masters® is a registered mark property of Whitegrey Srls.
These Terms & Conditions are set for No Gods No Masters/Whitegrey Srls, for simplicity here also referred as NGNM or nogodsnomasters.life.
1. Order Confirmation By accepting these terms and conditions, and upon confirmation of the customer's order, a written and binding agreement is entered into between the customer and NGNM. Once an order is completed on NGNM, the customer will automatically receive a confirmation of the purchase. In case of errors or omissions in the order NGNM reserves the right NOT to send the product to the customer, and thus cancel the order.
2. Age Restriction
If the customer is under 18, permission must be obtained from a parent or other person of authority.
3. Payment
NoGodsNoMasters.life accepts Visa, Mastercard and American Express & Paypal. If payment is by credit card, the customer must enter all the necessary information on the card and, in the case of a transaction with 3D Secure, the security code. All information is sent securely to NGNM, using SSL (Secure Socket Layer) through an encrypted connection. This prevents any unknown and unauthorized sources from accessing customer information. NGNM does not store customer credit card information after completing the transaction.
All prices include ITALIAN VAT. NGNM reserves the right to change prices at any time. On NGNM prices are shown only in Euro (EUR).
For UK and Northern Ireland customers, as of November 15, 2021 NGNM offers an "ALL VAT & Custom duties paid" service for you.
All prices listed on our site are final prices to you. Please refer to our Brexit page for a quick look at the shopping guideline for nogodsnomaters.life.
4. Local levies
Please note that local import duties vary by country and region. If residing outside of the EU, by paying for an order on nogodsnomasters.life, the customer is legally bound for paying in full all duties and VAT charges which will be notified by the shipping courier before delivering the package.
NGNM is not responsible, nor is knowledgeable in any way, for instructing customers about these charges, nor is responsible for refunding them in case of a return. 
Please know that all online custom duties calculators are just estimates, and the actual & final charges are calculated by your local customs authorities and need to be settled via the shipping courier.

5. Returns
Returns must be notified within 14 days of receipt by using this form. The item must be returned within 14 calendar days from the date of notification. The product MUST be returned in original packaging with hang tags and other labelling. A purchase can be returned, even though the product has been tried on, but it cannot be used. If the item is used, or returned not in its original state (no marks on the materials, no deformation of fabric or fit, and tightly fold) a specific assessment will be made to see if the product can be sold to another customer. If the item has been damaged or changed from its original shape/form, no refund will be made.
In case of an extra-EU return, please get in touch with our customer service first by emailing us at orders@nogodsnomasters.life and they'll guide you through the process, we can offer a preferred Fedex shipping rate and take care of all the paperwork and labels for you.
More over, for extra-EU returns, customs fees and duties aren't refundable.
All returns must be approved prior to sending the items back. NGNM won't accept returns if not previously filed via the system and approved by our team.
Products sold during sale periods and end of the season sales, are final. We're accepting returns for size exchange only within the EU. Please refer to the Shipping & Returns page for detailed information.
Nogodsnomasters.life doesn't offer free shipping for returns. The customer is responsible for returning items at his/her own expense. All returns that are not in their original state (no marks on the materials, no deformation of fabric or fit, or not tightly fold), will be rejected by NGNM. Please note that the customer must retain the receipt of the return shipment until the product is received and refunded by NGNM.
If the customer wishes to exchange an item, can follow the procedure a the returns section. Once the returned product is received by nogodsnomasters.life, the new items(s) are sent back or the order refunded.
6. Warranty
All products from nogodsnomasters.life come with a 2 year manufacturing warranty. This guarantee includes faults in the fabric, workmanship and other manufacturing related errors. The warranty does not apply to defects caused by normal wear and tear or improper washing. Please refer to washing instructions on each product page. For warranty claims please contact customer service at info@nogodsnomasters.life
7. Shipping
nogodsnomasters.life ships via Fedex Priority International to all their international destinations. All shipments originate from Italy and the tracking  information is e-mailed to the customer upon dispatch from orders@nogodsnonasters.life .
Shipping times for regular service in Europe and Worldwide are 1-3 business days for all major areas. NGNM accepts no responsibility for delays in customs processes outside the EU.
Shipping costs vary from country to country. The prices are shown to the final order. Customer Service is at the customer's disposal to answer any questions regarding shipping costs on orders@nogodsnomasters.life .
nogodsnomasters.life reserves the right to request additional shipping costs from the customer on orders for multiple items whose total weight exceeds 2kg, or if delivery is in a remote area. In case of the latter, arrangements can be done for access point delivery instead directly with the customer service order@nogodsnomasters.life .

If you are shopping from outside EU you may have to pay for customs fees and duties. Please refer to provision 6. above.
Customs fees and duties aren't refundable, nor the order can be cancelled or sent back to avoid paying them. Customer is legally bound to paying them upon ordering on nogodsnomasters.life .
8. Privacy
nogodsnomasters.life treats customer information with the utmost respect and integrity. No information is disclosed to third parties. Please read our Privacy terms.
9. Cookies
nogodsnomasters.life collects information about customer behaviour on the website with the use of cookies. A cookie is a small text file placed on the client computer's hard drive which track the customer's behaviour. Cookies are used to personalise the customer's online experience on nogodsnomasters.life. Cookies are reliable files that can execute program code, cannot transmit viruses and cannot be used to gather information about the customer's internet use on external sites. NGNM does not use cookies to collect or store personal information. The customer may choose not to accept cookies. Most Internet browsers allow you to delete or block cookies and to ask for the customer's consent before a cookie is stored. Managing cookies is in the web browser's preferences. Please note that if the customer does not wish to use cookies when visiting nogodsnomasters.life, it may have an impact on the buying experience.
nogodsnomasters.life uses cookies to keep the customer's shopping cart updated and cookies are also required to execute a checkout.
10. NoGodsNoMasters.LIFE uses the following cookies
nogodsnomasters.life uses cookies for the following general purposes: user functionality, statistics, sales and advertising. The functional cookies are used to ensure that nogodsnomasters.life works as intended, which amongst other things, allows customers to be able to add items to the cart, complete a purchase etc. No personal information is stored and cookies are automatically deleted when the browser is closed. We use services from Google (Google Analytics) to collect web statistics.
Cookies from these providers offer the ability to see which pages are visited, traffic referrals etc. This information is used to measure and improve the customer experience as well as analysing up on sales and advertising campaigns.
11. Company Information
nogodsnomasters.life is the official online shop for No Gods No Masters® which is a registered mark & property of Whitegrey Srls.
Whitegrey Srls. is ruled by Italian law and registered in Italy as:
Whitegrey Srls
Viale Luigi Majno 17, Milano 20122 Italy
P.Iva/CF 09935350968
info@nogodsnomasters.life
Customer Reviews
02/03/2023
Miriam T.

United Kingdom
I just can't leave my Winter Tights in the drawer!
I was going to save my winter tights for nice dry, clean road rides. I just can't leave them behind. The pad is just as comfortable as my go to NGNM Bibshorts. The fleece lined legs make them toasty warm even in the sloppy mud of a wet 3 hour MTB race. Wash them at 30°C they come up like new. Did I mention I look good in them?
01/24/2022
Nan D.

Netherlands
Fantastic tights!
These tights are super cozy and comfy. I love the chamois and the weight of the fabric is really nice...warm without being too thick and heavy. I'm 165cm and 53 kilos and I got the small. They are a bit roomy which I like because I don't like any tightness on my knees...probably the XS would be a more ideal fit. Highly recommend these bib tights!
11/26/2021
Jen B.

United States
Wonderful tights!
I love these tights so much! I wore them for a tough cyclocross practice, and then a very difficult race the next day in the rain and cold, and they kept me so warm and dry! They worked with me during the race and were so comfortable the entire time. They look fantastic and sleek, and feel so good. Very happy I bought these!